Thursday, October 6 at 6:30 pm to 8:00 pm
Kumble Theater at LIU Brooklyn
One University Plaza
Flatbush Avenue, between Dekalb Ave. and Willoughby St.
Brooklyn, NY, 11201
Leading recruiters from the hottest operations in the business discuss the dynamic opportunities available in the booming media and tech sector and share insight on the do's and don'ts of the job search. Brush up on the skills you need to land a position in this exciting field.
Attendees include:
Admission is free, RSVP Here
Saturday, October 8 at 6:00 pm-7:30 pm
Cornelia Street Cafe
29 Cornelia St.
Join Harry Dounchis, Perry S. Nicholas, Maria Sebastian and host Penelope Karageorge and enjoy a dazzle-dazzle program of poetry, music and literary intrigue. Harry Dounchis, Ph.D., will premiere his page-turning novel, Sand Hill Interns, about two young Stanford U. biochemists and a billion-dollar marijuana plot. Perry S. Nicholas, award-winning poet, will present work from his collections including The River of You and Beginnings: Poems to Greece and Back. Maria Sebastian, an acoustic singer/songwriter will perform her original songs. Maria has opened for dozens of national acts and recorded with many of their members.
$10 cover fee, which includes a glass of wine or soft drink and the program.
Monday, October 10 at 6:15 pm-8:15 pm
Columbia University
116th St. & Broadway
Reading and discussion of Flores Forbes' new book Invisible Men: A Contemporary Slave Narrative in the Era of Mass Incarceration
Flores Forbes, a former leader in the Black Panther Party, has been free from prison for twenty-five years. Unfortunately that makes him part of a group of black men without constituency who are all but invisible in society. That is, the "invisible" group of black men in America who have served their time and not gone back to prison.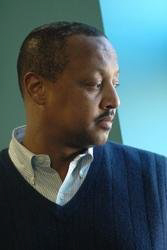 Invisible Men is a book that will crack the code on the stigma of incarceration. When Flores Forbes was released from prison, he made a plan to re-invent himself but found it impossible. His involvement in a plan to kill a witness who was testifying against Huey P. Newton, the founder of the Black Panther Party, had led to his incarceration. While in prison he earned a college degree using a Pell Grant, with hope this would get him on the right track and a chance at a normal life. He was released but that's where his story and most invisible men's stories begin.This book weaves Flores' knowledge, wisdom, and experience with incarceration, sentencing reform, judicial inequity, hiding and re-entry into society, and the issue of increasing struggles and inequality for formerly incarcerated men into a collection of poignant essays, finally, giving invisible men a voice and face in society.
Admission is free.
Monday, October 10 at 7:00 pm

BookCourt
163 Court Street
Brooklyn, NY
Enjoy a reading, audience Q&A, and book signing with Amy Kurzweil, author of her debut book, Flying Couch.
Flying Couch, tells the stories of three unforgettable women. Amy weaves her own coming-of-age as a young Jewish artist into the narrative of her mother, a psychologist, and Bubbe, her grandmother, a World War II survivor who escaped from the Warsaw Ghetto by disguising herself as a gentile. Captivated by Bubbe's story, Amy turns to her sketchbooks, teaching herself to draw as a way to cope with what she discovers. Entwining the voices and histories of these three wise, hilarious, and very different women, Amy creates a portrait not only of what it means to be part of a family, but also of how each generation bears the imprint of the past.
A retelling of the inherited Holocaust narrative now two generations removed, Flying Couch uses Bubbe's real testimony to investigate the legacy of trauma, the magic of family stories, and the meaning of home. With her playful, idiosyncratic sensibility, Amy traces the way our memories and our families shape who we become. The result is this bold illustrated memoir, both an original coming-of-age story and an important entry into the literature of the Holocaust.
Admission is free. Check out her Facebook event page here.