Saturday, October 29, at 12:00 pm – 3:00 pm
Poe Park
192 Grand Concourse
Bronx, NY 10458
The Bronx County Historical Society and Bronx Council on the Arts presents a new social justice-driven poetry reading and workshop series at Poe Park.
Featured poets will read from Poe's porch from noon to 1pm. This will be followed by special workshops, panel discussions, and/or lectures in the adjacent Poe Park Visitor Center, just steps away from the historic house landmark. Tours of The Cottage will be available and both programs are free.
From Poe's Porch was designed to create greater awareness of local history by drawing parallels to the issues addressed by Bronx poets today. These include LGBTQ equality, immigration, gentrification, racism, and others.
Admission is free.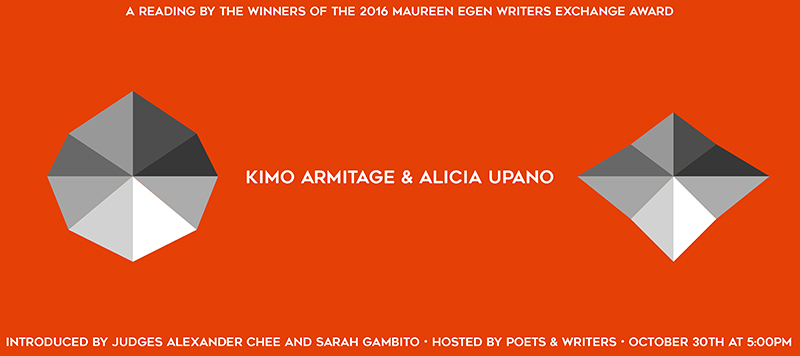 Sunday, October 30 at 5:00 pm
McNally Jackson Books
52 prince Street
New York, NY 10012
Poets & Writers will host a reading and reception for the winners of the 2016 Maureen Egen Writers Exchange Award, held in the state of Hawaii. Alicia Upano, fiction winner, and Kimo Armitage, poetry winner, will read from their work.  Upano will be introduced by this year's fiction judge, Alexander Chee, and Armitage by poetry judge Sarah Gambito.  Please help welcoming these Hawaii winners to New York City!
Admission is free.
Tuesday, November 1 at 7:00 pm
McNally Jackson Books
52 Prince St,
New York, NY 10012
Join McNally Jackson books for a celebration of Elena Ferrante!
Participants include: Roxana Robinson, Dayna Tortorici (N + 1), Ayana Mathis, and Ann Goldstein. To be moderated by Michael Reynolds, Editor-in-chief, Europa Editions.
During the week of November 1, publication date for Frantumaglia and The Beach at Night, over seventy bookstore across the United states will be playing host to #FerranteNightFever, a nationwide literary happening to celebrate the works of Elena Ferrante. Booksellers, authors, actors, journalists, critics, and most of all readers will gather to share their passion for Ferrante's books in a series of unique book launch parties and panels.
For more information on #FerranteNightFever events, click here.
Admission is free.