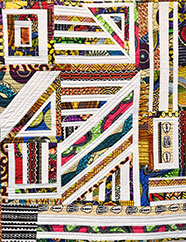 Currently showing now – Friday, February 24 at 9:00 am – 5:00 pm
The Arsenal Gallery
64th Street and 5th Avenue
3rd Floor
The Rhythmic Art of Thread showcases works in fiber that explore diverse themes of culture, spirituality, historical events, and icons. Contemporary artists merge techniques of quilting, applique, mixed media, screening, fabric collage, and fiber fusion to tell stories and present abstract imagery in textile art. The exhibition features the works of Michael A. Cummings, Shimoda Emanuel, Ife Felix, Laura R. Gadson, Jacqueline Johnson, Jackquelynn Jones, Dindga McCannon, Lisa Shepard Stewart, and 2016 Teen Curators of The Schomburg Center for Research in Black Culture.
Admission is free.
Thursday, February 16 – February 25, 9:00 am–5:00 pm
Poe Park Visitor Center in Poe Park 
2640 Grand Concourse
Bronx, NY
The Color of Comics exhibition, curated by Ray Felix, showcases the private art collections from artist, Ray Felix, and writer, Alex Simmons, along with several talented African-American artists in the comic book industry. Artists include: Paris Cullins, Jerry Craft, Christopher Duckett, Trevor Vonnie Eden, Corey Fields, N.Steven Harris, Jamal Ingle, Carl Kent, Alitha E. Martinez, Khary Randolph, Sha-Nee Williams, and many more.
Admission is free.
Tuesday, February 21 at 6:30 pm
Brooklyn Historical Society
128 Pierrepont St
Brooklyn, NY 11201
Does black literature really lack marketability? Author Elizabeth Nunez sits down with Essence book editor Patrik Henry Bass, Random House publisher Chris Jackson, president of the Authors' Guild Roxana Robinson and editorial director at Akashic Books Ibrahim Ahmad to dissect this assumption.
Admission is $10. If you would like to reserve your ticket, click here.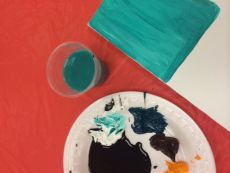 Wednesday, February 22 at 6:00 pm–7:30 pm
Gertrude Ederle Recreation Center 
232 W. 60th St.
New York, NY
Create your own masterpiece inspired by work from famous artists and various art techniques. The Art Inspired By series will include an overview of the artist or technique, followed by a hands-on workshop. This workshop will celebrate Black History Month with inspirational art techniques inspired by an African artist.
Admission is free. RSVP is required. If you would like to RSVP, please call (212) 397-3159.