April is National Poetry Month, which is dedicated to celebrating poetry's impact on culture and society.
–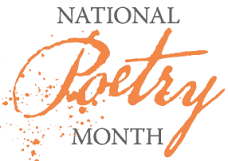 Publishers from W.W. Norton (and their poetry oriented website, Poets Out Loud) to Scholastic are amongst the many organizations participating in National Poetry Month. Helmed by the Academy of American Poets, participants are encouraged to host, participate, or attend poetry readings and similar events, share poetry and writing challenges online, get involved with poetry-based activities, and find other ways to inspire and be inspired by poems all month long.
Another way to show support during National Poetry Month is to check-out some poetry journals. Poetry journals are a great way to explore trending themes in poems and to analyze a wide variety of work from different poets, especially for someone who doesn't know a lot about poetry. For anyone looking for longer collections, some recent must-read titles to start with are  Milk and Honey by Rupi Kaur, Night Sky with Exit Wounds by Ocean Vuong, Bestiary by Donika Kelly, Dirty Pretty Things by Michael Faudet, and The Chaos of Longing by K.Y. Robinson.