Thinking about entering the publishing industry? Wondering where self-publishing fits into the great, big world of publishing?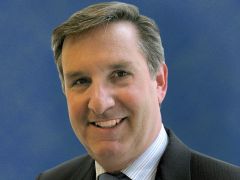 Join Pace's MS in Publishing Program at the David Pecker lecture presented by Cevin Bryerman, David Pecker Distinguished Visiting Professor of Publishing for the 2013-2014 academic year.  Bryerman is Publisher and Vice President of Publishers Weekly magazine and has been in the magazine business, working at the helm of both trade and consumer magazines, and in strategic planning, business development, and partnerships for more than 25 years. He will speak from his perspective as a publisher on "Publishing: Self-Publishing/Where It Fits Into the Publishing World."
Bryerman is also a Pace Publishing advocate, assisting students in obtaining internships and jobs, and is looking forward to a productive year nurturing students in his capacity as David Pecker Distinguished Professor.
Bryerman's first lecture as David Pecker Distinguished Professor will take place on Wednesday, December 4, in the Aniello Bianco Room at One Pace Plaza, from 6:00 p.m. to 8:00 p.m. RSVP to puboffice@pace.edu.
The David J. Pecker Distinguished Professorship, which enables Pace to recruit and invite publishing leaders to teach and lecture within the MS in Publishing Program, allows Pace Publishing students to learn from the most successful, innovative, and influential people in the publishing world; deepens the connection between students and the industry; exposes students to the latest insights, innovations, and trends in the business; enhances the program's already-glowing reputation, and allows it to compete both locally and nationally.