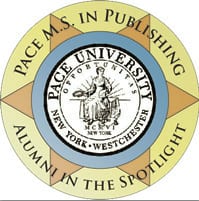 In this alumni interview, Prof. Denning speaks with Drucilla Shultz, an MS in Publishing graduate who has furthered her publishing career as Bookroom Editor at Publishers Weekly (also known as PW).
Before her publishing dreams took her to New York City, Drucilla Shultz was born and raised in a small town in southern Arkansas. After graduating with a degree in English from Hendrix College in 2011, Drucilla got a double shock: the Pace Publishing program (graduating in 2013) and New York City. Despite her mother calling every time something in NY makes the news and sending her vials of pepper spray with alarming frequency, Drucilla has settled into her life of reading and video games quite well and looks forward to her one year anniversary as Bookroom editor at Publishers Weekly.
Professor Denning: Hello Drucilla! Please tell us where you currently work and what is your job title? Also tell us a little about your company and what they do.
Drucilla: Hi! I currently work at Publishers Weekly as the Bookroom Editor. Publishers Weekly is a weekly magazine featuring industry news and pre-publication reviews. I'm also an editorial assistant at BookLife, which is our site that's geared towards self-publishing news and helping self-published authors achieve their goals. Indie authors can submit their books for PW review consideration there as well.
Professor Denning: What does your job as a Bookroom Editor entail? Can you describe some of the work you do?

Drucilla: Well, I oversee the PW bookroom (and the interns that work there) and, consequently, deal with any non-technical issues with GalleyTracker, our online reviews submission system. In addition, I assist the Reviews editors in whatever they need, including taking on their role when they're on vacation/leave. That's one of my favorite parts of the job! As a BookLife editorial assistant, I answer customer service emails for BookLife and our PW Select marking program as well as conduct author interviews for the site.
Professor Denning: How is it different working for your company (Publishers Weekly) than other publishing companies in the industry?
Drucilla: Technically this is my first "real" job in the publishing industry and the internships I've had have been very different from one another and from what I'm doing now. I've interned at the Children's Book Council, Macmillan Children's Publishing, and at PW (before they hired me, of course). I think two things set PW apart from other companies: the fact that we work on a weekly schedule (much faster than the 1-2+ year turnaround that publishing companies work with!) and that I get to see such a wide variety of books. Smaller publishers don't have this problem, but when I talk to friends at bigger houses, they usually complain that they have tunnel vision in regards to their imprint. I love that I get to see all of the different books that come in.
Professor Denning: Why did you choose the particular field or aspect of publishing you are currently in? How did you get this job?
Drucilla: I've always wanted to do editorial work, but I kind of just lucked into the PW position. The previous Bookroom editor was promoted to a Reviews editor position and they knew I was looking for a job so they offered it to me. I had always heard about people being hired on after their internships ended and I'd think, "Those lucky dogs!" Now I guess I'm the lucky one.
Professor Denning: What do you love about of your job and what are some of your favorite parts? What are the perks and highlights of being part of the publishing industry?
Drucilla: The perks are definitely the books! I think everyone in the industry will agree with that (it certainly isn't the paycheck!) I've been a huge reader all of my life so getting to learn the nuts and bolts behind my favorite pastime is always eye-opening. And I love that my job is so varied. I do so many different things in a day. If I get bored or frustrated, I can move onto something else for a short while.
Professor Denning: How do you think that technology has impacted and continues to impact the Publishing Industry? In particular, editing? Are there any traditional methods that you see staying the same despite technological advances?
Drucilla: Being able to get immediate feedback from an editor or literary agent or the printer or author or readers is the single most important thing to happen to the publishing industry. Being able to writing clear, precise comments on a manuscript and immediately send it to an author has definitely helped the editing process.
Professor Denning: Do you have any thoughts about what the future might hold for bookselling? What do you think are the biggest challenges in the Publishing Industry today?
Drucilla: I think we can safely assume at this point that print books aren't going anywhere so I think the biggest challenge on the horizon is Amazon. Industry people have talked about Amazon's business practices for years but Amazon still managed to stay in the background. It wasn't until the Amazon-Hachette battle shoved them into the limelight that people outside the industry started to pay attention. I'm going to be very interested in what happens the next few years.
Professor Denning: Where do you see yourself in the future — 5 to 10 years into your career?
Drucilla: I'm not sure. I'm still absorbing the fact that this is the first time that my job doesn't come with an hourly salary! I had never considered working at a magazine before (in fact I actively avoided magazines courses at Pace), but I really enjoy working at PW. I said this before, but I just love seeing all of the different genres that come in every day and unless I went to work at a smaller house (or managed to snag the right imprint at a bigger house), I wouldn't get to see that.
Professor Denning: Please tell me a bit about how your educational experience at Pace prepared you for your publishing career.
Drucilla: Learning from people who were working in the industry was a big help because it gave me a better understanding of publishing. I had no idea what the industry was like before I started classes and my professors gave me a basic overview which my internships could expand.
Professor Denning: What were some of the highlights of your graduate experience? Are there any  teachers, courses or just fond classroom memories here?
Drucilla: Well, I've already mentioned how much I love children's books so it shouldn't come as a surprise that I took the Children's course with Professor Soares. It was my first taste of children's publishing and I loved it. The guest speakers we had were fantastic. In fact, just about all of the guest speakers I had in my classes turned out to be wonderful. I was also surprised at how much I liked Supply Chain Management with Professor DiMascio. I didn't really know what to expect and I learned a lot. Book Production and Design with Professor Delano was another favorite.
Professor Denning: Did you do an internship(s) while getting you degree? Can you tell us a bit about your experience(s)?
Drucilla: I took the Internship course and did my internship with the Children's Book Council. I was the Library and Special Projects intern. It didn't have much to do with the publishing industry per se, but it was a fun little internship. I love organizing and keeping track of things and that was basically what the internship was. And again, it was fascinating to see the wide variety of books come in.
Professor Denning: What was your topic for your thesis paper? Do you have any advice or tips for students currently writing theirs?
Drucilla: My topic was Crowdfunding in Publishing and, by extension, I included self-publishing. At the time, there wasn't much information so I had to make it work. I recommend setting a schedule for yourself: a section/paragraph every couple of days. This way you won't get burned out writing or put it off for too long. I also found index cards to be extremely helpful. I would write each of my sections on a different notecard so I could get a clearer view of what the paper would be before I had actually written it. Finally, don't worry too much. I agonized over my graduate thesis and it turned out that the whole process was easier than what I had to do for my undergraduate thesis!
Professor Denning: What advice would you give students entering the field do to set themselves apart from other applicants? Do you look for anything specific on a resume or in an interview?
Drucilla: Be extremely well read and not just in your genre. When I interview, I like to ask about favorite books or the last book that they read. I think it's a good way to evaluate not just an applicant, but any person. I just discover "reading challenges" on the internet and I highly recommend them. There are many different kinds and they're a good way to cover a wide variety of books that you otherwise may not have picked up.
Professor Denning: Is there anything else you would like to share?
Drucilla: Lots of really clichéd advice comes to mind, but other than that, make friends in the industry. Not networking, but actual friends. It's such a stress reliever to be able to talk to someone who understands your job. And you never know when they'll be able to pass along that book you've been dying to read!
Thank you for doing this interview with us!