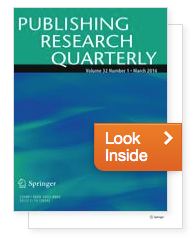 Publishing Research Quarterly is an international forum for the publication of original peer-reviewed papers offering significant research and analyses on the full range of the publishing industry. The journal analyzes content development, production, distribution, and marketing of books, magazines, journals, and online information services in relation to the social, political, economic, and technological conditions that shape the publishing process. Its broad coverage shows how different sectors of the industry operate, from editorial decision-making to order processing.
Topics include product development, marketing, finance, and print and online distribution as well as the relationship between publishing activities and the publishing industry's constituencies among industry, government, and consumers. The journal presents scholarly articles, research reports, review papers, essays, surveys, memoirs, statistics, letters, notes and book reviews.
Do you want to publish your article in this journal?
You can visit the homepage of Publishing Research Quarterly  to register for an online subscription and for full details on:
aims and scope
editorial policy
article submission