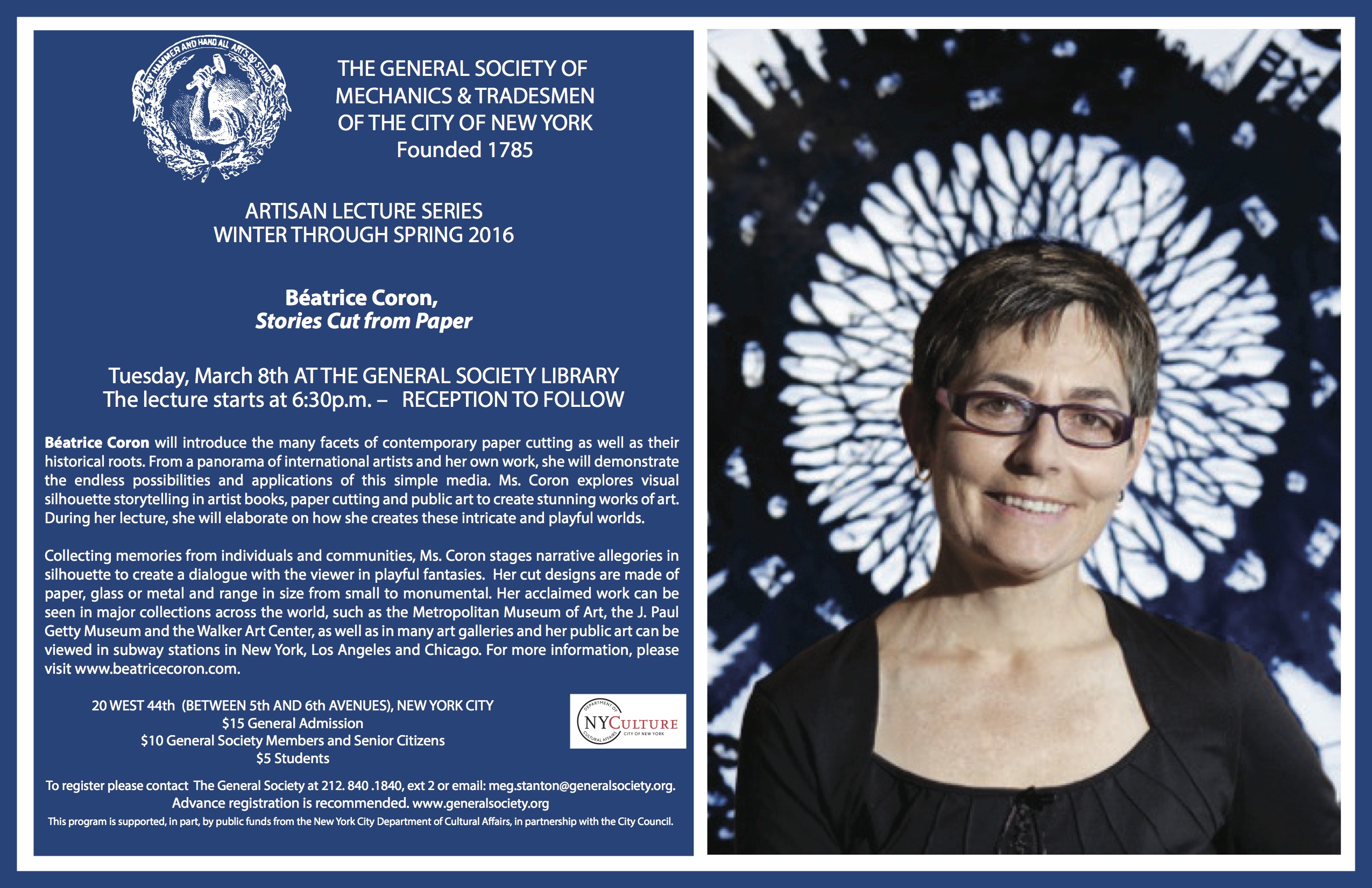 The General Society of Mechanics and Tradesmenis pleased to present: Béatrice Coron, Stories Cut from Paper on Tuesday, March 8th at 6:30 p.m
Béatrice Coron will introduce the many facets of contemporary paper cutting as well as their historical roots. From a panorama of international artists and her own work, she will demonstrate the endless possibilities and applications of this simple media. Ms. Coron explores visual silhouette storytelling in artist books, paper cutting and public art to create stunning works of art.
During her lecture, she will elaborate on how she creates these intricate and playful worlds. Collecting memories from individuals and communities, Ms. Coron stages narrative allegories in silhouette to create a dialogue with the viewer in playful fantasies. Her cut designs are made of paper, glass or metal and range in size from small to monumental. Her acclaimed work can be seen in major collections across the world, such as the Metropolitan Museum of Art, the J. Paul Getty Museum and the Walker Art Center, as well as in many art galleries and her public art can be viewed in subway stations in New York, Los Angeles and Chicago. For more information, please visit www.beatricecoron.com.
The program begins at 6:30 p.m. in The General Society Library
20 West 44th Street, (Between 5th and 6th Avenues)
New York City. 
Reception to follow. Advance registration is recommended.
$15 General admission,
$10 General Society members and Senior Citizens,
$5 Students.
To register please contact the General Society at: 212.840.1840 or