April 6th-LAUNCH PARTY for When We Collided by EMERY LORD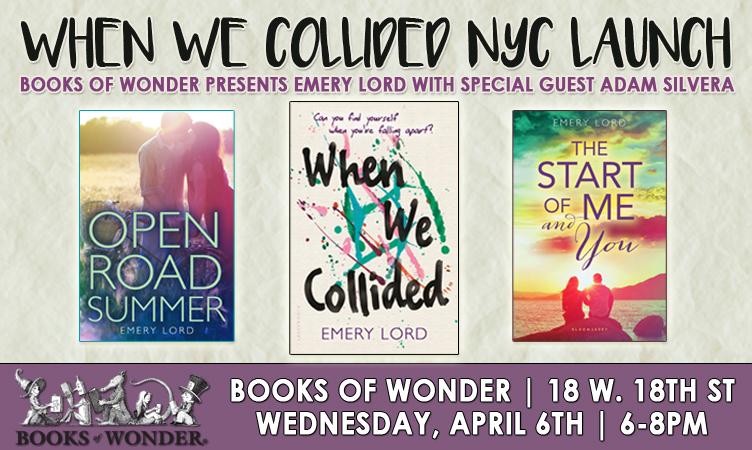 Books of Wonder is thrilled to present EMERY LORD, in conversation with fellow YA author ADAM SILVERA, for the NYC launch of her third contemporary novel for teens, When We Collided!
"Seventeen year-old Jonah Daniels has lived in Verona Cove, California, his whole life, and only one thing has ever changed: his father used to be alive, and now he is not. With a mother lost in a deep bout of depression, Jonah and his five siblings struggle to keep up their home and the restaurant their dad left behind. But at the start of summer, a second change rolls in: Vivi Alexander, the new girl in town.
Vivi is in love with life. Charming and unfiltered, she refuses to be held down by the medicine she's told should make her feel better. After meeting Jonah, she slides into the Daniels' household seamlessly, winning over each sibling with her imagination and gameness. But it's not long before Vivi's zest for life begins to falter. Soon her adventurousness becomes all-out danger-seeking.
Through each high and low, Vivi and Jonah's love is put to the test . . . but what happens when love simply isn't enough?"
April 7th-Lucy Foley at Club Monaco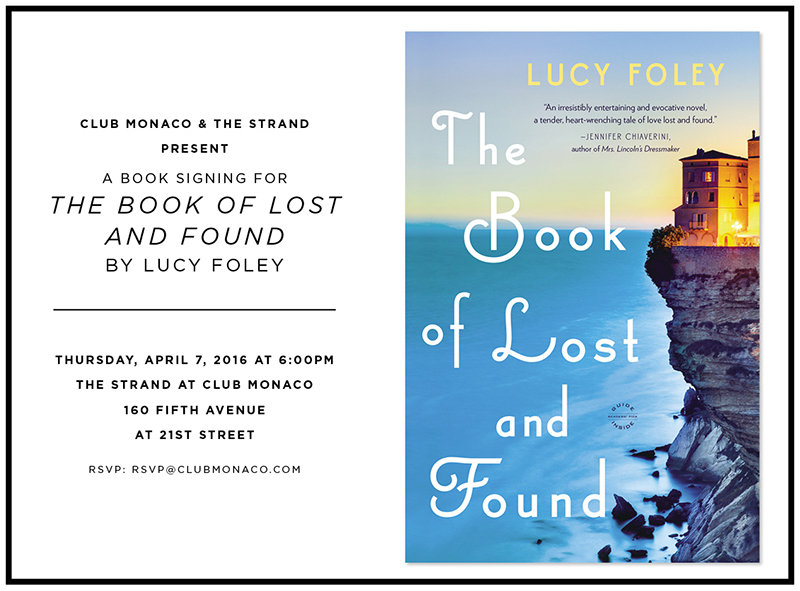 Strand's Shop at Club Monaco
160 Fifth Avenue at 21st Street
Time:
6:00 pm – 7:00 pmLucy Foley comes to Strand's Club Monaco shop to sign 
The Book of Lost and Found
, a captivating tale of lost love redeemed. Kate Darling's enigmatic mother–a once-famous ballerina–has passed away, leaving Kate bereft. When her grandmother falls ill and bequeaths to Kate a small portrait of a woman who bears a striking resemblance to Kate's mother, Kate uncovers a mystery that may upend everything she thought she knew.Kate's journey to find the true identity of the woman in the portrait takes her to some of the world's most iconic and indulgent locales, revealing a love story that began in the wild 1920s and was disrupted by war and could now spark new love for Kate. Alternating between Kate's present-day hunt and voices from the past, 
The Book of Lost and Found
 casts light on family secrets and love–both lost and found.This event will be held at Strand's shop at Club Monaco's flagship store, 160 Fifth Avenue at 21st Street. Purchase a copy of 
The Book of Lost and Found
 at Strand to have it signed.
Please RSVP to RSVP@clubmonaco.com so they know you're coming.
Housing Works Bookstore Cafe
126 Crosby Street
New York, NY 10012
Time: 7:00 pm
Free!
Join Housing Works, Picador, and WORD Bookstore in celebrating the paperback launch of The American People: Volume 1. Legendary playwright, activist, and author Larry Kramer will be in conversation with Bill Goldstein, book critic for NBC's "Weekend Today in New York."
Forty years in the making, The American People sets forth Larry Kramer's vision of his homeland. As the founder of ACT UP and the author of Faggots and The Normal Heart, Kramer has decisively affected American lives and letters. Here he reimagines our history. This is the story of one nation under a plague, contaminated by greed, hate, and disease and host to transcendent acts of courage and kindness. With books for sale courtesy of our friends at WORD Bookstore.
RSVP to this event on Facebook »
April 12th-Author & Publisher: Domnica Radulescu and Deb Futter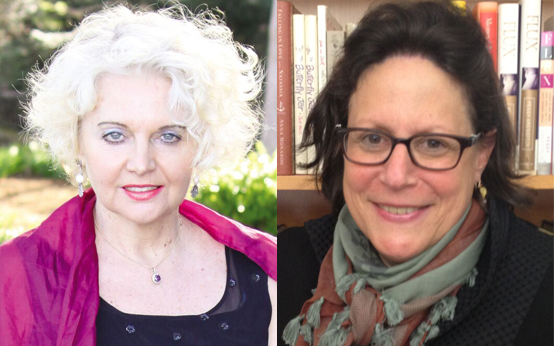 The Center for Fiction  
17 E. 47th St
Time: 7:00 pm
Domnica Radulescu, author of the popular Train to Trieste, joins us to celebrate her new book Country of Red Azaleas, about the bond between two women that crosses war, cultural conflict and two continents. Radulescu will be joined in conversation by Deb Futter, publisher of the groundbreaking imprint Twelve and Vice President, Editor-in-Chief of Grand Central Publishing.
Click
here
for more information and to RSVP.
April 12th-Bernstein Award Finalist Series: Dale Russakoff
Wachenheim Trustees Room
5th Avenue at 42nd Street
New York, NY 10018
Time: 6:00 pm
Free!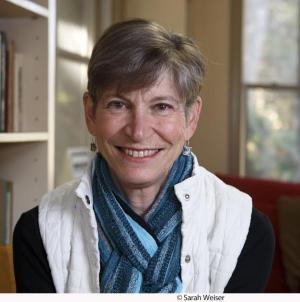 In celebration of the Helen Bernstein Book Award for Excellence in Journalism, The New York Public Library invites finalist Dale Russakoff for a conversation with Jessica Strand. Dale Russakoffis nominated for her book The Prize: Who's In Charge of America's Schools. 
In The Prize: Who's In Charge of America's Schools, reporter Dale Russakoff uses her extensive access to Facebook founder Mark Zuckerberg, then Newark Mayor Cory Booker, and New Jersey Governor Chris Christie to tell the definitive story of Zuckerberg's $100 million quest to transform and greatly improve the debilitated Newark, NJ public schools. Evaluating the specific situation provides a compelling and honest examination of the school reform movement in the United States.
Dale Russakoff spent twenty-eight years as a reporter for the Washington Post, covering politics, education, social policy, and other topics. The Prize, serialized in The New Yorker, is her first book. She lives in Montclair, New Jersey.
Click here to learn more and to register for the event.