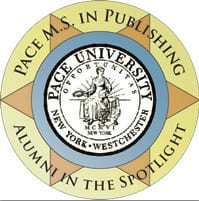 In this alumni interview, Brittany Fuller  speaks with Carrie Conta, an MS in Publishing graduate who has furthered her publishing career as the Advertising and Promotion Manager for HarperCollins Publishers' Adult division.

Carrie Conta graduated in M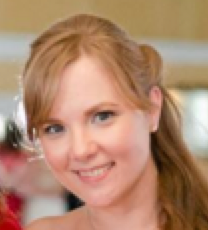 ay 2010 with an MS in Publishing, and went on to work for Springer Publishing before being hired by HarperCollins Publishers. Since then, she has worked in their Client Services, Harper 360, and Advertising and Promotion departments. Before diving head-first into her Publishing studies and into her new life in New York, Carrie graduated from the University of Kansas with a BA in History, and volunteered at the National WWI Museum, Liberty Memorial, in Kansas City. When she's not researching swag or creating ads, she can be seen writing, catching up on terrible television, and creating tabletop games with her husband.

Brittany F: Where do you currently work and what is your job title?
Carrie: I am the Advertising and Promotion Manager for HarperCollins Publishers' Adult division.
Brittany F: What does your job as Manager in Advertising and Promotion entail? Can you describe some of the work you do and how your department interacts with the other members of the company?
Carrie: The majority of my job involves creating advertisements, social media assets, and promotional items, as well as coordinating shipments and manning the booth for conventions. That "swag" you get when you visit BookCon or Comic Con? It's fun to say I research and design that!
Brittany F: What is it like to work for a prestigious and innovative company like HarperCollins?
Carrie: From day one, you're surrounded by people who not only know the ins and outs of the industry and have cultivated the careers of many bestselling authors, but you're also around people who just love to read. It's a large company, but there are opportunities to get to know your coworkers with book clubs, networking events, and groups like HarperCollins Emerging Professionals, which was helpful when I was starting out.
Brittany F: Why did you choose the particular field or aspect of publishing you are currently in? How did you get this job?
Carrie: I actually joined the company in our Client Services department, assisting the sales team. I had taught myself the Adobe Suite in college, primarily Photoshop, and was able to put those skills to work a few times in creating sales materials. I still love sales, but over time I wanted a chance to really put my design skills to work. In my first few years at HarperCollins, I was also given the opportunity to visit or volunteer at BEA and New York Comic Con, which gave me the chance to look at all the interesting "swag" various marketing teams were using to promote their latest titles (plus, I was able to nerd out over my favorite books and authors). From there, I found a position in our Advertising and Promotion department, and I was lucky enough to get the job. My experience in the company and self-taught skills didn't hurt, though I know finding the right job at the right time has some degree of luck to it.
Brittany F: What are some of your favorite parts of your job and some of the biggest challenges?
Carrie: I can't describe how cool it is to create a promotional item for a book I'm really thrilled about. T-shirts, tote bags, headphones, sunscreen bottles, whatever. I just made custom cookies and am researching sunglasses options, for crying out loud! It changes all the time, so I'm never bored. The challenge that comes with that, though, is there are a lot of time constraints, so you need to be able to prioritize and turn pieces around rather quickly. Some pieces take up to a month to produce once final files are sent to the vendor. For some books you may not have art or final copy in until just before the deadline. From there, you need to send the current design to a number of people to sign off on and it may make several rounds of changes, which can be rapid-fire or take weeks. Like I said, I'm never bored.
Brittany F: What are the perks and highlights of being part of the publishing industry?
Carrie: Free books! I don't think I'll ever get over the joy of holding an ARE for a title I'm excited about. Also, you can never underestimate how wonderful it is to be around like-minded people. I've been lucky in having wonderful coworkers and supportive mentors who enjoy publishing, are passionate about books, and want you to succeed. It's an ever-changing industry, and I honestly believe that, regardless of what shape books take in the future, people will always be passionate about reading. To have the chance to contribute to that is a privilege.
Brittany F: Do you think there is a challenge that advertisers face today because of the lack of Brick and Mortar book stores?
Carrie: From where I am, over the past couple of years I have honestly seen an uptick in promotional items and advertising I am doing for independent stores. I just finished a set of dog tags for an author's on sale date event, and I'm doing more and more with the regional indie bookstore associations. Whether that continues to be the case remains to be seen, but I'm hopeful the public will continue to support their local bookstores and I'm able to keep making neat swag for their events.
Brittany F: How do you think that technology has impacted/continues to impact Advertising and Promotion? In particular, advertising and the business model previously held for book publishing? Are there any traditional methods that you see staying the same despite technological advances?
Carrie: Off hand, I'd say developing technology has allowed us to be more creative and try more interesting things, both in terms of printing and in outreach. New social media platforms give us more chances to create banners, promote video content, and really connect with our readers. With promotions, we have been able to implement up-and-coming technology to make our pieces more vibrant, interactive, and eye-catching.
Brittany F: Do think advertising for an eBook is harder or less complicated than promoting a physical book? Can you please describer the differences?
Carrie: On my end, promoting an e-only book is less complicated, simply because we rarely make advertisements or promotions for them. If I do anything for them, it tends to be a social media banner or ad. For print titles with an e-book version, I highlight the hardcover or paperback (whichever the primary or latest format is) and add a note that the title is also available in e-book. Most of what I do still focuses primarily on the print side, which I don't see going away any time soon.
Brittany F: Do you have any thoughts about what the future might hold for bookselling?
Carrie: I think we'll have more interesting avenues to explore in terms of how to reach out to our audiences and what to make to really engage with them, and I see print and e-books continuing to coexist. At least at the moment, I do not believe the publishing industry is in such dire straits as people were once led to believe.
Brittany F: Where do you see yourself 10 years into your career?
Carrie: Hopefully going to more conventions and given the opportunity to make more interesting promotions! In addition to my current position, I was just offered a position to join PAMA (Publishers Advertising and Marketing Association) as a board member and I believe continuing to network with fellow publishing professionals can only help me develop more in all areas of my career, not to mention personally. When the time comes I want to try my hand at animation beyond creating GIFs, and wouldn't turn down the chance to try designing book covers. Overall, I'm pleased to be where I am in the moment, and just hope that where I am allows me to continue to learn new programs and grow creatively as well as professionally.
Brittany F: Please tell me a bit about how your educational experience at Pace prepared you for your publishing career.
Carrie: When I was at Pace, I think I was one of a handful of people who knew my ultimate goal was outside the realm of editorial. We're odd ones, it seems. I was leaning toward sales or marketing, as I understood numbers and liked some aspect of creativity, not to mention loved getting a good book in the right hands, and was lucky enough to land an internship with HarperCollins as well as Springer Publishing. I worked at both, and both helped springboard my career. I also had the fantastic chance to learn from some of the best teachers and industry professionals I have ever known, some of whom I got to see in the halls at work!
Brittany F: What were some of the highlights of your graduate experience?
Carrie: I'd have to say the infinite patience and assistance from Janine Dent in helping me with both my internship and term paper, and the brilliant classes from Manuela Soares (I loved the Children's Book Publishing course) were definite standouts.

Brittany F: Did you do an internship(s) while getting you degree? Can you tell us a bit about your experience(s)?
Carrie: In the same semester, I worked as a Client Services intern at HarperCollins and an editorial intern at Springer Publishing, which allowed me to get hired as Sales Administrator at Springer Publishing before being hired as Client Services Associate at Harper. There are few better teachers than your own experience, and in these areas I learned how to coordinate materials for a sales conference or exactly how selling seasons work. I learned about formatting final books hands-on and the value of sell sheets and advanced copies (beyond them being there for my joy). My internships helped really put what I had learned in the classroom into perspective and, more importantly, into practice.
Brittany F: What was your topic for your thesis paper? Do you have any advice or tips for students currently writing theirs?
Carrie: My paper was on the history of censorship in children's literature and its ineffectiveness in deterring sales. If anything, an effort to ban a title from a school or a town is likely to be met with an increase in interest in the book. I looked at a number of cases, from Alice's Adventures in Wonderland to To Kill a Mockingbird to the Harry Potter series, which gave me an excuse to look at the history of some of my favorite books. Honestly, find something you're passionate about. I was a History major in undergrad and still love any chance I get to dig into the past. If you're passionate about the future, look into the evolution of Cyber Punk since its inception through today thanks to technological advancement. If you love magazine publishing instead of the book end, dissect what has and hasn't worked in moving still-circulating publications into the digital age. Whatever it is, just make sure you love, can defend, and will not get bored of your topic.
Brittany F: What advice would you give students entering the field do to set themselves apart from other applicants? Do you look for anything specific on a resume or in an interview?
Carrie: Our recent hires have been successful because they were absolutely themselves. You can practice hypothetical questions all you want, but there are few things worse than someone sitting down with you and sounding completely disingenuous. Research the position beforehand, use the experience you currently have to answer what you know and, if you don't know something, be honest that you don't know the answer at the moment but would work to find it out. Self-starters and self-teachers are invaluable in any industry, and someone hiring you wants to know that they do not have to hold your hand through the learning process. They also want to really believe you would fit into the job and with the group.
Brittany F: Is there anything else you would like to share?
Carrie: To any students—keep reading, keep networking, and keep putting yourselves out there! Something will come up. It really just takes honing your skills, being patient, taking opportunities as they come, and getting to know your peers and potential mentors.
Thank you Carrie for doing this interview with us!