Pace alumni Hannah Bennett was just recognized by Publisher's Weekly second annual Star Watch. Star Watch is designed to formally acknowledge young professionals in publishing who have promise as future leaders within the industry. Hannah graduated from Pace in 2012 and is now the current Managing Editor at RosettaBooks.
As per the article: "Poetry aside, there is nothing Zen-like in Bennett's workaday world. When she joined RosettaBooks in 2012, it published only backlist e-books. Now, with a print frontlist that she and her team built from scratch, it is a bona fide trade nonfiction publisher. "We've got an efficient and co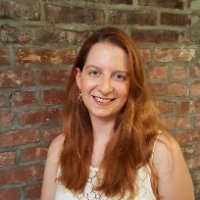 mpetitive program that I'm truly proud of," she says. Upcoming on the list that she has forged is a book by the radio talk show host Delilah and a memoir by Dawit Habte, which she describes as the "harrowing story of a brilliant Eritrean refugee who now works for Bloomberg." When Bennett is not working with such high-profile experts as the legal eagle Alan Dershowitz and the Silicon Valley guru John Sculley, she gives her time to the Women's National Book Association, for which she has recently taken on the role of president of the New York City chapter. She is particularly excited about a women-in-comics panel that she is organizing with Pen + Brush. Other un-Zen-like activities include serving on the advisory board of Rosetta and tweaking the draft of a book that she just completed."
You can read more about Publishers Weekly's Star Watch, as well as see more from Publishers Weekly, here.
Bennett has also done an Alumni Interview with Professor Jane Kinney-Denning, which can be found here.