Thursday, September 29th at 7:00 pm
Lillian Vernon Creative Writers House
58 West 10th Street
Joyce Carol Oates is a recipient of the National Book Award and the PEN/Malamud Award for Excellence in Short Fiction. Her books include the national bestsellers "We Were the Mulvaneys" and "Blonde" (a finalist for the National Book Award and the Pulitzer Prize), and the New York Times bestsellers "The Falls" (winner of the 2005 Prix Femina Etranger) and "The Gravedigger's Daughter." Her essay collection "Soul at the White Heat" is new from Ecco Press this fall.
Admission is free.
Cave Canem Presents: New Works
Friday, September 30th at 5:00 pm
Lillian Vernon Creative Writers House
58 West 10th Street
Jonterri Gadson's debut full length collection of poems is "Blues Triumphant" (YesYes Books, 2016). Kevin Simmonds is the author of two collections of poetry, "Mad for Meat" (Salmon Poetry, 2012) and "Bend to It" (Salmon Poetry, 2014). Tiphanie Yanique is the author of "How to Escape from a Leper Colony" (Graywolf 2010) "I Am the Virgin Islands" (Little Bell Caribbean 2012) and "Land of Love and Drowning" (Riverhead 2014) with a new collection of poems entitled "Wife" (Peepal Tree 2016). Co-sponsored with Cave Canem Foundation.
Admission is free.
Saturday, October 01 at 6:00pm
"To anyone and everyone who would rather jam to Virginia Woolf than a woofer. Who still fancies Hemingway the all-time bar-brawl champ or has, at some point, uttered the word 'transcendental' in a social setting. To anyone who has ever snuck a flask into the library. This is your night." –The Village Voice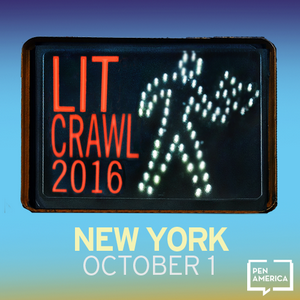 The first Lit Crawl NYC took place in 2008, along a rambling route from the Lower East Side, to the East Village, and over to Williamsburg. Since then, the upstart Lit Crawl has become a permanent and highly anticipated fixture on New York City's packed literary calendar. Lit Crawl NYC brings literature to the streets via brainy readings and wacky events such as Literary Pictionary and Nerd Jeopardy alongside Tarot card readings, Flash portraiture, mobile photo booths, music from publishing house bands, and hundreds of other events full of readers, writers, fun-loving boozers, and all-around literary mayhem.
Since 2015, Lit Crawl NYC has been jointly produced by Litquake and PEN America, a community of 4,400 writers, translators, and literary professionals dedicated to protecting free expression and promoting literary culture.
Click here for a full schedule
Wednesday, October 5 at 7:00 pm-8:00 pm
The Strand's Rare Book Room
828 Broadway and 12th Street
The Best American Comics series launches its latest collection w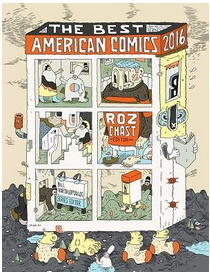 ith this year's guest editor: Roz Chast, beloved New Yorker cartoonist and award-winning author of Can't We Talk About Something More Pleasant? She'll be joined by the series editor, comics sage and evangelist Bill Kartalopoulos, along with a panel of the artists behind her picks for the year's best comics:
Liana Finck, author of "All the Paintings Here Agree"
Char Esme, author of "Blinky-Jinks Playhouse" and "Big Rudy's Cowgirls Club" (with Lauren Poor)
Anne Emond, author of "The Swim" and "Today"
Admission is $15