The New York Comic Con (NYCC) is one of the largest and most exciting conventions in the country. NYCC is an annual event that showcases all things comics and graphic novels, w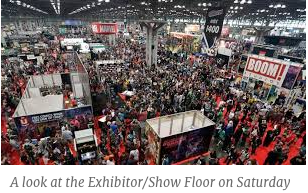 ith everything from screening rooms showing sneak-peaks at film adaptations of well-known comic titles to panels with leading industry players. 2016 was especially notable for NYCC since it produced the largest crowd ever, with reports of as many as 180,000 tickets sold and about 167,000 fans in attendance.
This year, thanks to Professor Paul Levitz, fellow classmate and the Student  Aide for the MS in Publishing department Anna Bailey and I were given the chance to volunteer for Boom! Studios and assist with sales at their booth. Boom! Studios is, as per Professor Levitz, "a mid-size comic company and movie producer (such as TWO GUNS with Denzel Washington and Mark Wahlberg and EMPTY MAN currently in production at Fox)" situated in Los Angeles, CA. The Boom! Studios team are all charged with natural charm and charisma, and it made for a fun and enlightening learning experience to
watch such passionate and zealous people engage with others and each other about comics. Some of their notable works include two-time Eisner Award winner Lumberjanes (one of the writers/cover artists for the series, the talented and supremely chill Kat Leyh, did signings and cover art commissions the whole convention at the Boom! booth), Adventure Time, Over the Garden Wall, Mouse Guard, Rust, and Joyride among so many other titles across genres.
Besides teaching the Publishing Comics and Graphic Novels course at Pace and having an extensive history working in the business of comics, Professor Levtiz also currently holds a position as board member of Boom! Studios. When asked about his position and the relationship Boom! has with Pace, Professor Levitz said, "I've been on their board for the past few years, and have had the opportunity to connect a number of my Pace students with them to work at New York Comic Con, giving the students a first hand experience of the publisher experience at the convention."
"One of the real pluses of Pace's approach in the MS in Publishing program," Professor Levitz continued, "is the practical connections we teachers can provide. I've seen my students intern at New York-based comic companies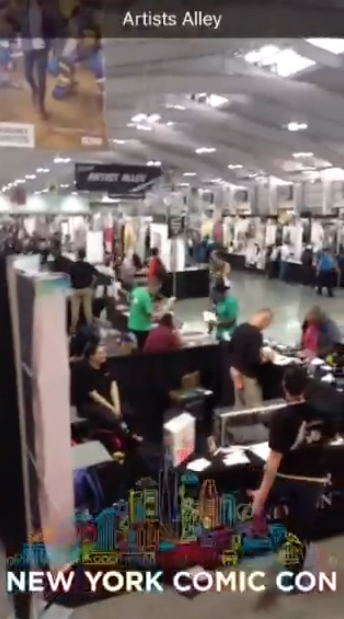 as well as in unusual opportunities like this one.  These first tastes of publishing are invaluable for the students deciding which branches of publishing really interest them, and making contacts that can lead to long term career paths."
As publishing students, this volunteer opportunity provided a great peek at how truly experienced and knowledgeable those who work in the comic industry have to be, which would have been more difficult to grasp otherwise. Comic Con is a great place to meet artistic people with similar interests and share fan culture in a way that isn't recreated in many other places or for any other artistic mediums.