It's Halloween today, and while most people like to celebrate the holiday of horror with monster movies or costume parties, getting into a scary story is a great way to cap off the night right. Since most people are familiar with essential horror novels, such as pretty much anything by Stephen King or traditional works like Bram Stoker's Dracula, here are some more underrated novels that will leave you with chills:
You: A Novel by Caroline Kepnes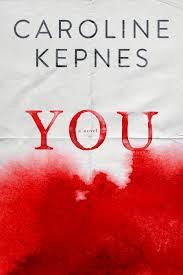 A modern day horror story with an intense creep factor, You follows East Village bookstore worker Joe Goldberg's descent from a well-adjusted guy with a harmless crush to a stalker with a controlling, twisted obsession. Since Joe's mania really kickstarts after he does a Google-search of a beautiful stranger's name from a receipt to find out who she is, this will make anyone who's traceable online (so, everyone) maybe think twice about how serendipitous meetings with strangers really are. There's also a follow-up book, Hidden Bodies, which disturbs just as much as its predecessor.
We Have Always Lived in the Castle by Shirley Jackson
An eerie, unsettling book that is sure to be one of the first things you think of when you hear the word 'disturbing' after reading it, We Have Always Lived in the Castle is quick to crank up the dial on bizarre but has a slow build-up to tragedy and hysteria. Narrator Merricat Blackwood lives alone with her agoraphobic older sister in a town where everyone treats them with hostility and rudeness, and that sense of dread grows stronger when another family member invades their space by moving in with them—which might not be such a big deal if the Blackwood family was a bit more removed from death and insanity than they actually are. Fans of Jackson's well-known short-story The Lottery will appreciate the similar tone of this work.
What started out as a few threads on a Reddit board mutated into a full-blown horror novel that makes you do a double-take at childhood ignorance and naivety to figure out what horrors lurk there. An unnamed narrator becomes invested in piecing together forgotten mysteries and tragedies throughout his childhood. He is constantly zooming in and out on a scramble of memories of things he didn't think much of at the time, things he repressed, and things his mother kept from him to keep him safe and unaware of the terrors he was unwittingly the center of. Suddenly, unrelated events that didn't worry him before evolve into a much more complete picture of a danger that he still isn't certain he's prepared to face.
NOS4A2 (pronounced Nosferatu) is a tension-filled novel of terror with a supernatural twist. Young Victoria McQueen has small stirrings of bizarre talents, such as her penchant for finding anything missing—from objects to answers—and her ability to travel anywhere she desires by crossing a specific bridge. She's not the only one with inexplicable powers, which she discovers in the worst way when she becomes another one of many children abducted by the infamous kidnapper Charles Manx. Having been the only child to escape the horrors of where Manx took his victims, Victoria spends the rest of her life trying to forget what she lived through. Only Manx is still invested in getting Victoria back by any means necessary, even if it means involving the people she cares most about.
Scary Stories to Tell in the Dark Series by Alvin Schwartz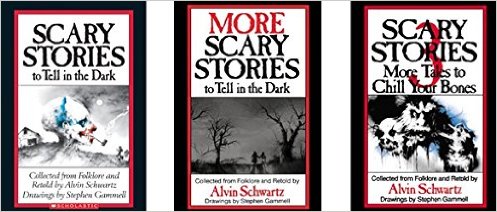 Okay, this is a classic, but I had to include it on the off-chance someone wasn't familiar with this nightmare fuel. This cult classic series of Scary Stories to Tell in the Dark are collections of short story retellings of the most fear-inducing folktales. Schwartz does a great job compiling the perfect mix of scares in each edition, so there's something to frighten everyone with, whether you're perturbed by the idea of skeletons with remnants of their decaying flesh roaming around or ghosts out to exact revenge in very particular murderous manners are your go-to for scares. For added effect, I highly recommend sticking to the original copies with art by Stephen Gammell; if the stories don't leave you discontent, the illustrations definitely will.