Friday, December 9 at 7:00 pm
McNally Jackson
52 Prince St.,
New York, NY
Searching for John Hughes: Or Everything I Thought I Needed to Know about Life I Learned from Watching 80s Movies, is the first book by Jason Diamond, the founder of Vol. 1 Brooklyn, whose writing has appeared in the New York Times, The Paris Review, Pitchfork, Vice, Bookforum, McSweeney's, and many other publications. Searching for John Hughes is Diamond's hilarious and poignant memoir of how a Jewish kid from a broken home in a Chicago suburb—sometimes homeless, always restless—found comfort and connection in the likewise broken lives in the suburban Chicago of John Hughes' oeuvre. "With geniality, humor and charm, Diamond explores the ways in which cinematic fantasy can influence, overshadow, and help us to escape reality. This book is for anyone playing out an eternal adolescence," says Melissa Broder. He will be joined by Dana Schwartz, an Arts & Entertainment writer at The Observer.
Admission is free.
Saturday, December 10,  from 1:00 pm to 4:30 pm
Bookstore Cafe
126 Crosby Street New York, NY
Join dozens of terrific writers and performers for a reading of Charles Dickens's holiday classic, "A Christmas Carol," sponsored by Penguin Classics.
Drop in early and often to catch a few surprise performers or linger through the afternoon for the whole, spirited tale. All books and
merchandise are 10% off, and the cafe will be stocked with seasonal specials. Finish your Christmas shopping with unique literary finds, have some festive treats from our cafe with a hot cocoa or a glass of wine and enjoy!
Festivities will kick off at noon with Christmas caroling from members of the New York City Master Chorale. The reading of "A Christmas Carol" will begin at 1 PM inside the bookstore and end approximately 4:30PM. Note: Special holiday hours for Saturday, December 10: 10AM – 6PM.
Admission is free. If you are interested in attending, please RSVP on Facebook.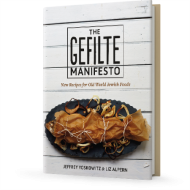 Tuesday, December 13 at 6:30 pm
Mid-Manhattan Library
455 Fifth Avenue
New York, NY
This illustrated lecture explores the authors' mission to revitalize Ashkenazi cuisine with recipes that draw inspiration from Jewish bakeries, neighborhood delis, old-fashioned pickle shops, and their own childhood kitchens.
With Jeffrey Yoskowitz and Liz Alpern, cofounders of The Gefilteria.
Admission is free and on a first come, first served basis.