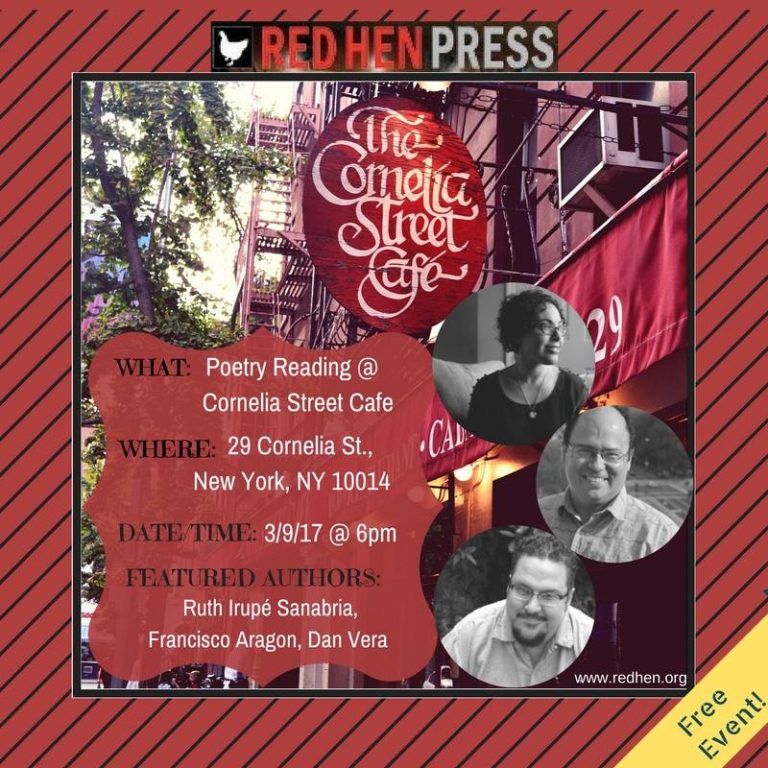 Thursday, March 9 at 6 pm
Cornelia Street Cafe
29 Cornelia St
New York, NY 10014
Come join Red Hen Press at Cornelia Street Café and meet three  extraordinary authors: Dan Vera, Ruth Irupé Sanabria, and Francisco Aragón. Get a better understanding of how they connect and diverge personal experience within a wider cultural and historical conversation through their latest poetry collections.
Admission is free. Please RSVP on Facebook.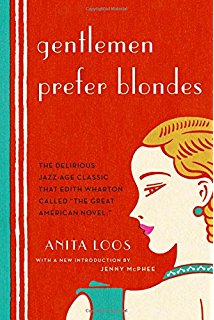 Saturday, March 11 at 12:00 pm
Word Bookstore
126 Franklin St
Brooklyn, NY 11222
This delirious 1925 Jazz Age classic introduced readers to Lorelei Lee, the small-town girl from Little Rock, who has become one of the most timeless characters in American fiction. Outrageous and charming, this not-so-dumb blonde has been portrayed on stage and screen by Carol Channing and Marilyn Monroe and has become the archetype of the footloose, good-hearted gold digger (not that she sees herself that way). Masquerading as her diaries, Gentlemen Prefer Blondes follows Lorelei as she entertains suitors across Europe before returning home to marry a millionaire. In this delightfully droll and witty book, Lorelei's glamorous pragmatism shines, as does Anita Loos's mastery of irony and dialect. A craze in its day and with ageless appeal, this new Liveright edition puts Lorelei back where she belongs: front and center.
Admission is free. A copy of the book costs $13.95.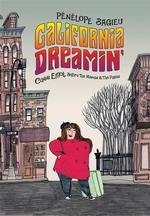 Monday, March 13 at 7:00 pm – 9:00 pm
The Strand Bookstore
828 Broadway (& 12th Street)
New York, NY 10003
Join the conversation about how these diverse cartoonists draw their lives and those of other women, taking risks in their art and storytelling to challenge mainstream representation of bodies, with wit, horror, and much more! We're holding this panel for the launch of California Dreamin' by Pénélope Bagieu (a nonfiction graphic biography of Mama Cass) and featuring the following amazing panelists: Natalie Andrewson (Adventure Time, The Secret Destiny of Pixie Piper), Katie Skelly (Operation Margarine), Julia Gfrörer (Laid Waste), and Whit Taylor (Ghosts). The panel discussion will be moderated by Meg Lemke of the Brooklyn Book Festival, PEN America, and MUTHA Magazine.
Admission is $15.00.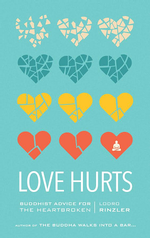 Tuesday, March 14 at 7:00 pm – 8:00 pm
The Strand Bookstore
828 Broadway (& 12th Street)
New York, NY 10003
Satirist JP Sears and meditation teacher Lodro Rinzler are millennials who have been entertaining and enlightening people of all ages for years. On his wildly popular YouTube channel, Sears's "How to Be Ultra Spiritual" videos have accumulated more than 28 million views, using humor to expose the shadow side of modern spirituality. The author of six books, Lodro Rinzler offers a contemporary take on timeless wisdom, writing with warmth, insight, and humor on subjects from finding meaning in an age of dead-end jobs and digital friendships to navigating heartache and other painful emotions, whether due to love lost, illness, death, or disillusionment with the state of the world.
This event has three ticket options:
• Buy a copy of Lodro Rinzler's book Love Hurts for $11.66
• Buy a copy of JP Sears' book How To Be Ultra Spiritual: 12 1/2 Steps to Spiritual Superiority for $16.95
• Or buy a $10 gift card