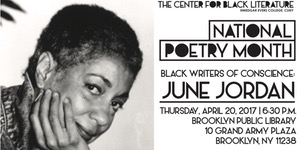 Thursday, April 20 at 6:30 pm to 9:00 pm
Brooklyn Public Library
10 Grand Army Plaza
Brooklyn, NY 11238
The Center for Black Literature, in partnership with the Center for Law and Social Justice at Medgar Evers College and Brooklyn Public Library, will celebrate the life and works of June Jordan.
Poet, playwright, and essayist Jordan (1936–2002) was one of the most widely published and highly acclaimed African-American writers of her generation. During her career, she produced 27 volumes of poems, essays, libretti, and work for children, June Jordan was also known for her fierce commitment to human rights and progressive political agenda. Jordan engaged the fundamental struggles of her era: over civil rights, women's rights, and sexual freedom. A prolific writer across genres, Jordan's poetry is known for its immediacy and accessibility as well as its interest in identity and the representation of personal, lived experience—her poetry is often deeply autobiographical; Jordan's work can also be overtly political and often displays a radical, globalized notion of solidarity amongst the world's marginalized and oppressed. Her volumes include Some Changes (1971), Living Room (1985), and Kissing God Goodbye: Poems 1991-1997 (1997) Biography excerpted from Poetry Foundation.
Admission is free. Please be sure to RSVP.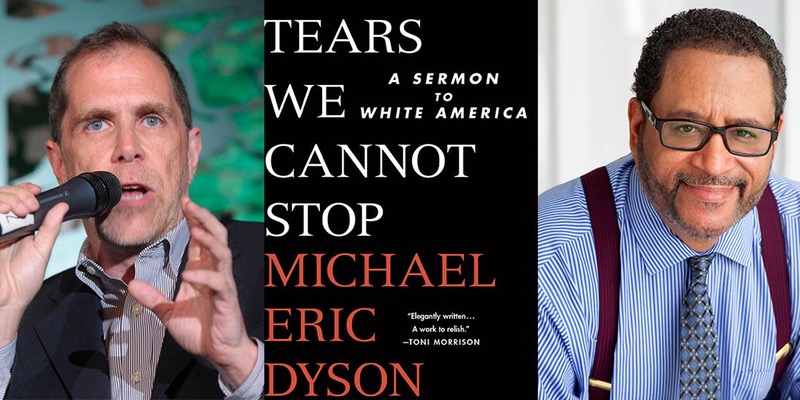 Monday, April 24 at 7:00 pm – 8:30 pm
Housing Works Bookstore Cafe
126 Crosby Street
New York, NY 10012
Join New Republic editor ERIC BATES and MICHAEL ERIC DYSON, author, Georgetown professor and New Republic contributing editor, in conversation about Tears We Cannot Stop: A Sermon to White America—Dyson's urgent, heartfelt, and eloquent new book on race relations in the United States. Read Dyson's excerpt for the New Republic here: Tears We Cannot Stop.
Admission is free. $5 for a special subscription to The New Republic. Please be sure to RSVP.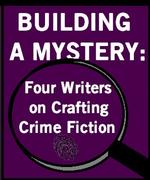 Wednesday, April 26 at 7:00 pm – 8:00 pm
The Strand Bookstore
828 Broadway (& 12th Street),
New York, NY 10003
What does it take to plan a murder? Four crime fiction novelists talk about writing stories that kill. It's Edgars (TM) Awards week in New York, which means the nation's mystery writers have come to town to celebrate the genre. In this conversation, four crime novelists will discuss the dark alleys of writing and publishing, and what it really takes to live a life of crime. Featured writers include: Reed Farrel Coleman, Julia Dahl, Lori Rader-Day, and Alex Segura.
Admission is $15. Purchase your ticket online.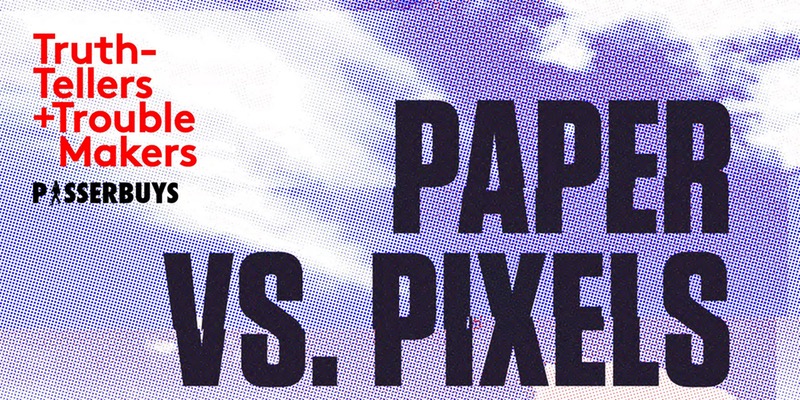 Tuesday, April 25 at 7:00 pm – 8:30 pm
Passerbuys Lounge at Canal Street Market
265 Canal Street
New York, NY 10013
In a climate where print sales are going down and our lives increasingly revolve around stories we read online, publishers are faced with the challenge of grabbing our attention and standing out amongst a constantly expanding landscape of new (and often free) media. As publications seek solutions to this problem from a design perspective, they weigh the options for how to best reach their target audience. Are apps the way forward? Do readers desire more visual content? How can we translate content intended for print into something optimized for consuming on mobile devices?
The panel discussion will explore consumer reading habits and publishing's use of technology and design in the Internet era with speakers Renda Morton, Executive Director of Product Design at The New York Times, Omar Sosa, Founder & Art Director of Apartamento Magazine, Thessaly La Force, Editor-in-Chief at Garage Magazine and will be moderated by Jorge Balarezo. "Paper vs. Pixels" is part of Truth-tellers & Troublemakers' salon in collaboration with Passerbuys.
Admission is free. Please be sure to RSVP.