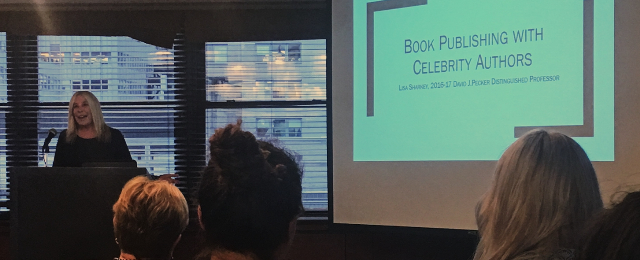 Working with celebrities to get their books published may seem daunting, but Lisa Sharkey—the Senior Vice President and the Director of Creative Development at HarperCollins Publishers—is an expert. On April 26th, Sharkey talked about the joys and challenges of working with well-known public figures on their projects in her lecture, "Book Publishing with Celebrity Authors." This was Sharkey's second talk as the 2016-2017 David Pecker Visiting Professor, following-up the presentation on transferable skills she gave in the fall.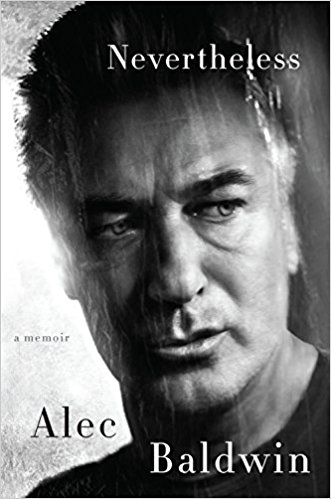 With years of experience working with both intentional celebrities (actors, athletes, reality stars, etc.) and unintentional celebrities (people who became famous as a result of news story in which they are a major personality), Sharkey's familiar with how different it is publishing and promoting a celebrity's book versus working with a traditional writer. Through personal anecdotes and behind-the-scene details on books she's published throughout her career, Sharkey illustrated the experience of working with people who aren't necessarily writers themselves to publish a successful book that might even reach the New York Times bestseller list.
For the first part of her presentation, Sharkey outlined the top joys of working with celebrities. Despite most of the celebrities she works with not being professional writers for their day-jobs, Sharkey says that these books are still important to them "to their legacies." They value the opportunity to publish their stories without having them filtered through the press for their families and friends—and, of course, for the fans. Fans of celebrities also make a huge difference in how big the book signings and sales will be and what sort of appearances they can do.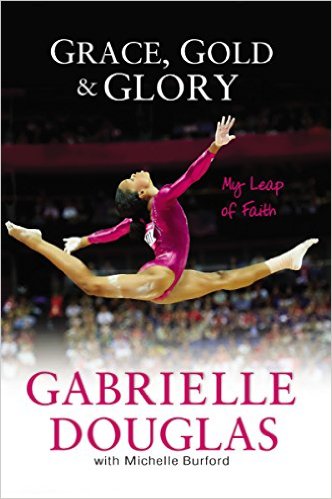 Fans "crave the first-person stories of celebrity lives" and are interested in keeping celebrity books "on their nightstand," enough so that books by celebrities are consistently reliable holiday gift sellers, such as Alec Baldwin's memoir Nevertheless and Gabby Douglas's autobiography Grace, Gold, and Glory: My Leap of Faith. Sharkey also reveals that celebrities are used to being in the spotlight and are sociable, always camera-ready, and "rule" social media, which are all important elements for the successful marketing of books. Any area of weakness they have, Sharkey said, are also easy to deal with since celebrities generally "know what they don't know" and are open to accepting that they need help in an arena beyond what they're famous for.
The challenges working with celebrities are also something different than working with traditional authors. Entourages, the amplified fear of failure, and unrealistic expectations all add to the list of struggles Sharkey has dealt with when working with celebrity authors. There's also the issue of how in-demand they are; getting celebrities to do book promotions when they're already so busy and marketplace collisions with them when they are trying to advertise other products, are stand-out instances of how their fame can make them difficult to work with. Also, not every celebrity author has the skill to write their own books despite their desire to. Sharkey says that ghostwriters are often necessary to always have ready to assist the celebrity authors.
The pros and cons aside, working with celebrities is always memorable for Sharkey. She has met Charles, the Prince of Wales, at the Clarence House while working with him on his book, Harmony: A New Way of Looking at Our World, and sharing tea with royalty in a once in a lifetime moment. She discussed the intensity of working with Jenna Miscavige Hill on her book exposing scientology, Beyond Belief: My Secret Life Inside Scientology and My Harrowing Escape, and recalled a time where the two asked their driver to ditch a suspicious car following them that Hill thought might be associated with Scientology. Rock star front man of Van Halen, Sammy Hagar, shared with her how emotionally moved he was over the success of his autobiography, Red: My Uncensored Life In Rock, which was a chance to share, for the first time, his challenges growing up and making it through life from his point-of-view.
Sharkey had already shared her interesting career with us in the fall lecture, so it was fascinating to listen to her talk about the work she does getting celebrities to open up and to be honest about their lives and work in their books. As with her previous talk, Sharkey had no trouble keeping everyone invested in her talk through insightful anecdotes and straightforward, honest details about a part of the publishing industry that can feel secret and elusive to publishing students.
We appreciate and thank Sharkey for giving another well-informed and valuable talk, and for concluding her David Pecker Distinguished Visiting Professor lectures on such a memorable note.