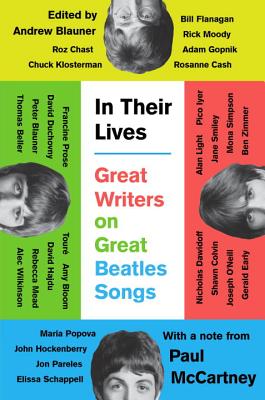 Thursday, June 15 at 7:30 pm
Greenlight Bookstore
686 Fulton street
Brooklyn, NY 11217
In Their Lives: Great Writers on Great Beatles Songs presents essays from a chorus of twenty-nine luminaries singing the praises of their favorite Beatles songs. Arranged chronologically by the date of the song's release, and including a note from Paul McCartney, these essays highlight both the Beatles' evolution as well as the span of generations their music affected. From Beatlemaniacs who grew up listening to the iconic albums on vinyl to new fans who download the songs on iTunes, each contributor explores a poignant intersection between Beatles history and personal history. Editor Andrew Blauner hosts readings by distinguished authors who have contributed to the anthology, including Touré (I Would Die 4 U: Why Prince Became an Icon), Elissa Schappell (Blueprints for Building Better Girls), and Rebecca Mead (My Life in Middlemarch) read from their essays, and discuss the Beatles' legacy and impact, culturally, historically, and individually.
Admission is free. A copy of the book is $23.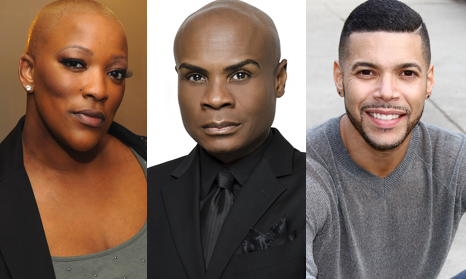 Tuesday, June 20 at 6:30 pm
The Graduate Center
365 Fifth Avenue
New York, NY 10016
Frenchie Davis, Nathan Lee Graham, and Wilson Cruz —three artists and advocates of LGBTQ communities, who have shared stories of LGBTQ people of color through their art—engage in a special Pride Month conversation. Cruz is best known as Angel in Rent on Broadway, Rickie Vasquez on My So-Called Life, and Junito on Noah's Arc (the first network TV show revolving around queer men of color). Davis is a singer who has appeared on American Idol and The Voice and in Rent on Broadway. Graham played Todd in the Zoolander movies, and his theater credits include Priscilla: Queen of the Desert and Hit the Wall. Davis and Graham recently appeared in The View Upstairs, a musical about a 1973 fire in a gay bar in New Orleans that killed 32—the deadliest massacre of LGBTQ people in American history until the Pulse attack of a year ago. They speak with Kevin Nadal, executive director of CLAGS: The Center for LGBTQ Studies.
Admission is free. Reservations are required. Reserve your seat here.
Gotham Rising: New York in the age of Art Deco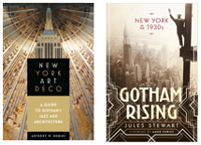 Wednesday, June 21 at 6:30 pm to 8:00 pm
Shakespeare & Co. Booksellers
939 Lexington Avenue (between 68th and 69th Streets)
New York, NY 10065
Discover New York in the jazz age with Jules Stewart, journalist, historian and author of Gotham Rising: New York in the 1930's and Anthony Robbins, a twenty-year veteran of the New York City Landmarks Commission and author of New York Art Deco: A Guide to Gotham's Jazz Age Architecture.
Gotham Rising describes the city's architectural, economic, social and cultural renaissance after the Wall Street Crash. New York Art Deco surveys Art Deco sites in all five boroughs.
Admission is free.