On this day in 1962, Kingsley Amis, C. S. Lewis, and Brian Aldiss gathered in Lewis's rooms at Magdalene College, Cambridge to discuss the merits of science fiction. The conversation was recorded and published in 1964 as "The Establishment must die and rot." A year later, it was republished – a little less controversially – as "Unreal Estates." Just beside the River Cam, surrounded by famously lush gardens, the men discussed the inspirations behind their works – and their creative intentions.
Take this excerpt from the treatise:
Lewis: The story itself should force its moral upon you. You find out what the moral is by writing the story.

Amis: Exactly. I think that sort of thing is true of all kinds of fiction.

Aldiss: But a lot of science fiction has been written from the other point of view: those dreary sociological dramas that appear from time to time, started with a didactic purpose – to make a preconceived point – and they've got no further.

Lewis: I suppose Gulliver started from a straight point of view? Or did it really start because he wanted to write about a lot of big and little men?
Amis was later known as Sir Kingsley William Amis, who authored more than 20 novels, six volumes of poetry, and a study on science fiction. Lewis, who would become most famous for his seven Chronicles of Narnia novels, was also a poet, medievalist, lecturer (at Oxford and Cambridge), and Christian apologist. Aldiss would later be known as a "science fiction grandmaster" for editing three Penguin Science Fiction anthologies and authoring a number of science fiction works and short stories.
Lewis will be today's featured speaker for Quote of the Week.
"Since it is so likely that children will meet cruel enemies, let them at least have heard of brave knights and heroic courage." — C.S. Lewis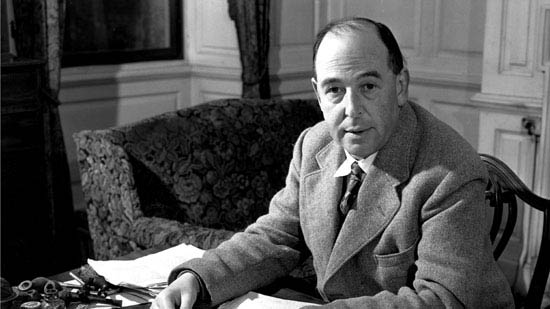 Clive Staples Lewis was born in Belfast, Ireland in 1858. An author of more than 30 books, Lewis is remembered as one of the "intellectual giants of the twentieth century and arguably one of the most influential writers of his day." He studied at Oxford, where he received three first-class degrees in Greek and Latin literature, classical philosophy, and English language and literature. While at school, he joined an informal literary discussion group called The Inklings. Founded by J. R. R. Tolkien, the club ran from the early 1930s to 1949.
In 1954, Lewis became a professor of literature at Cambridge University. Two years later, he married Joy Gresham, an American English teacher with "whom he had been in correspondence. Lewis was full of happiness during the years of their marriage, though Gresham died of cancer in 1960. Lewis grieved deeply for his wife and shared his thoughts in the book A Grief Observed, using a pen name." Lewis retired from Cambridge in 1963. He died on November 22, 1963, in Oxford.

Fun fact: As a small child, Clive persuaded his family and friends to call him Jack, a name that stuck for the rest of his life. "Jack's" Narnia books have sold over 100 million copies.