On this day in 1839, Charlotte Brontë – the famed author of Jane Eyre – wrote an amazing rejection letter – a "bold defiance of oppressive gender ideals, packaged as the ultimate it's-not-you-it's-me gentle letdown." The suitor in question, Henry Nussey, was a Reverend in Sussex. His sister, Ellen Nussey, was one of Charlotte's closest friends, and had been since they met as teenagers at Roe Head School in January 1831. Ellen would later be instrumental in preserving the legacies of the Brontë sisters. Her letters to Charlotte, for example, lay the foundation for the first biography ever written about the author.
Charlotte's letter to Henry is copied below in its entirety.
My dear Sir,

Before answering your letter, I might have spent a long time in consideration of its subject; but as from the first moment of its reception and perusal I determined on which course to pursue, it seemed to me that delay was wholly unnecessary.

You are aware that I have many reasons to feel gratified to your family, that I have peculiar reasons for affection towards one at least of your sisters, and also that I highly esteem yourself. Do not therefore accuse me of wrong motives when I say that my answer to your proposal must be a decided negative. In forming this decision — I trust I have listened to the dictates of conscience more than to those [of] inclination; I have no personal repugnance to the idea of a union with you — but I feel convinced that mine is not the sort of disposition calculated to form the happiness of a man like you. It has always been my habit to study the character of those amongst whom I chance to be thrown, and I think I know yours and can imagine what description of woman would suit you for a wife. Her character should not be too marked, ardent and original — her temper should be mild, her piety undoubted, her spirits even and cheerful, and her "personal attractions" sufficient to please your eye and gratify your just pride. As for me, you do not know me, I am not this serious, grave, cool-headed individual you suppose — you would think me romantic and [eccentric — you would] say I was satirical and [severe]. [However, I scorn] deceit and I will never for the sake of attaining the distinction of matrimony and escaping the stigma of an old maid take a worthy man whom I am conscious I cannot render happy.

[…]

Farewell—! I shall always be glad to hear from you as a friend —

Believe me
Yours truly
C Brontë
Brontë married Arthur Bell Nichols – her father's curate – on May 29, 1854, one year before she died. He had been in love with her for years. Ellen was a bridesmaid, although she apparently didn't like him (this is easy to believe when you see Ellen later refer to him as the "wicked man who was the death of dear Charlotte"). Brontë authored a number of notable works in her life, including "The Professor," "Villette," and "Poems by Currer, Ellis and Acton Bell," although Jane Eyre is by far her most famous work.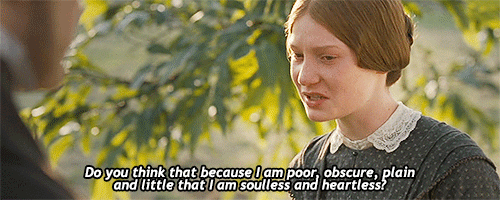 First published on October 16, 1847, the novel follows "the loneliness and cruelty of Jane's childhood, [which] strengthens her natural independence and spirit, which prove invaluable when she takes a position as a governess at Thornfield Hall. But after she falls in love with her sardonic employer, her discovery of his terrible secret forces her to make a heart-wrenching choice. Ever since its publication in 1847, "Jane Eyre" has enthralled every kind of reader, from the most critical and cultivated to the youngest and most unabashedly romantic. It lives as one of the great triumphs of storytelling and as a moving and unforgettable portrayal of a woman's quest for self-respect."
Looking for more? Check out Book Riot's "16 Beautiful Jane Eyre Book covers." Below is MovieClips's trailer for the 2011 version of Jane Eyre, directed by Cary Fukunaga, because we all need a little Michael Fassbender to get us through our Mondays.